We Turned Hays County Blue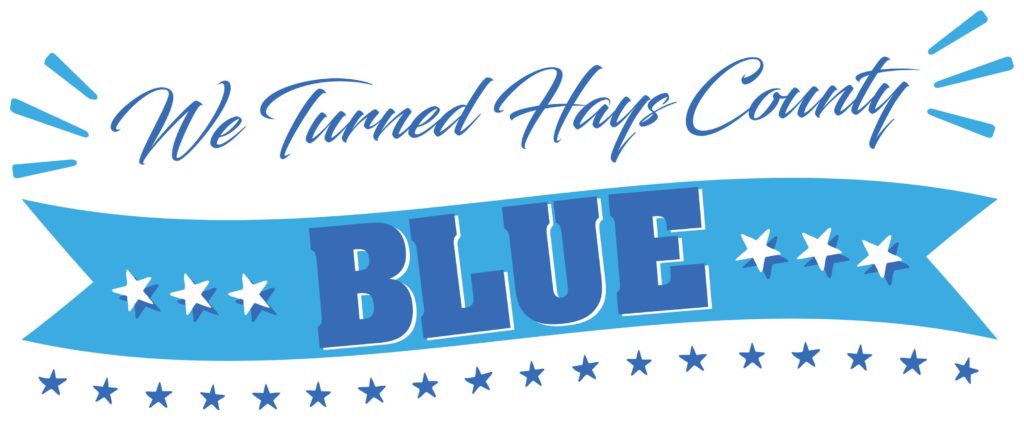 Congratulations to everyone who worked hard to turn Hays County blue this year! WE DID IT!!!! We are a blue county! If the rest of Texas voted the way we did, we would've ran the table and elected Democrats across the board!
An extra special congratulations goes to Erin Zwiener (Texas House, District 45), Ruben Becerra (Hays County Judge), and Elaine Hanson Cardenas (Hays County Clerk) for winning their races! All of our Democratic candidates for the 3rd Court of Appeals races — Thomas Baker, Chari Kelly, Edward Smith and Gisela Triana — won their races as well!
With 100% of precincts reporting, we can celebrate the following:
In Hays County, 51.87% of votes cast were for a straight-Democratic ticket.

Beto O'Rourke won 57.16% of Hays County votes.

U.S. Congressional candidate Joseph Kopser (District 21) won 52.06% of Hays County votes.

U.S. Rep. Lloyd Doggett won 68.67% of Hays County votes.

In the governor's race, Lupe Valdez won 49.65% of our votes, while Greg Abbott got only 47.65%.

For Lt. Gov., Mike Collier got 53.60% of our votes, while Dan Patrick got only 43.02%.

Justin Nelson defeated Ken Paxton in the attorney general's race, 54.51% to 41.92%, in our county.

Joi Chevalier got 49.81% of our county's votes for comptroller.

For land commissioner, Miguel Suazo got 49.88% of Hays County votes (vs. 45.60% for George P. Bush).

Kim Olson defeated Sid Miller for land commissioner, 54.07% to 42.56% in our county.

Roman McAllen got 51.14% of Hays County votes for railroad commissioner.

For Texas Senate District 25, Steve Kling got 50.85% of our votes.

In Texas House District 45, Erin Zwiener got 53.52% of Hays Co. votes.

Ruben Becerra brought home 51.73% of votes for Hays County judge, defeating Will Conley.

Elaine Hanson Cardenas won Hays County Clerk with 53.31% of the vote.

All our justice of the peace candidates won with strong performances: Scott Cary, 55.25%; Beth Smith, 64.28%; and Maggie Hernandez Moreno, 100% (unopposed).
Our state-level judicial candidates also came out on top in Hays County with the following votes:
Texas Supreme Court
Steve Kirkland, 54.87%

R.K. Sandill, 54.31%

Kathy Cheng, 54.26%
Court of Criminal Appeals
Maria T. (Terri) Jackson, 52.53%

Ramona Franklin, 53.91%
3rd Court of Appeals
Edward Smith, 53.18%

Chari Kelly, 54.37%

Thomas Baker, 53.85%

Gisela Triana, 54.42%
All our Hays County commissioner candidates ran fantastic races but came up a little short. The Precinct 3 race was extremely close with Jimmy Alan Hall getting 49.91% of the vote.
You can find all the results at http://www.co.hays.tx.us/election-results.aspx
Thanks for all the hard work that all of my Democratic friends did this year. Together, we truly made a big difference.