Don't let your Vote-by-Mail Application be rejected
Kyle/Buda-Area Democrats is forwarding this important message from Mark Trahan, Hays County Democratic Party Chair.
More than 50 percent of Mail-in-Ballot Applications were rejected in Travis County by Jan. 13, according to recent articles. We can't let that happen in Hays County!
As many of you know, you can apply to Vote by Mail in Texas if you are:
65 years or older
A person with a disability
Out of the county on election day and during the period for early voting
Confined in jail, but otherwise eligible
While 66% of all 50 states allow Vote By Mail with no restrictions, this year, the Texas Legislature made it even harder with a new law called SB1. One of the many voter suppression tactics built into SB1 is a duplicitous ID requirement that is wreaking havoc all across Texas and causing thousands of new Vote by Mail applications to be rejected.
This new law requires the elections officials to check the mail in ballot application for ID or last four of your SSN and compare with the voter file. If your numbers do not match, the elections official can deny your application. The language is deceiving, as it states "if you do not have a TDL, give the last four digits of your SSN". However, you need to put both to ensure that the number you place on the application is the same as in your voter file.
SO, PLEASE be sure to put BOTH your ID number and the last four digits of your SSN on your Vote by Mail application!
Many Texans are overlooking this new, (easily missed) requirement and as a result, election officials in all counties are taking this opportunity to reject Vote by Mail applications.
The form can be found at the link below. Note: This is a PDF form that you can type directly into. All you need to do is PRINT it out. Please be sure to put both numbers on this application. (see example graphic below)
When you're done completing the form on your computer please print it out and mail it in by Feb. 18:
Hays County Early Voting Clerk
712 South Stagecoach Trail
Suite 1012
San Marcos, TX 78666-6294
We recommend that you do NOT CHECK the last box.
Please feel free to reach out to us with any questions (info@hayscountydemocrats.org). We need your vote more than ever this year. We're here to make voting as simple a process as possible for all of you. We are in the process of transforming our website into a fully functioning interactive voter guide to help voters of all experience levels participate in our democracy.
Please forward this email to anyone you know who may need to apply to Vote by Mail. A reminder, the deadline for the application is February 18.
Warmest regards,
Mark Trahan, Chair of Hays County Democratic Party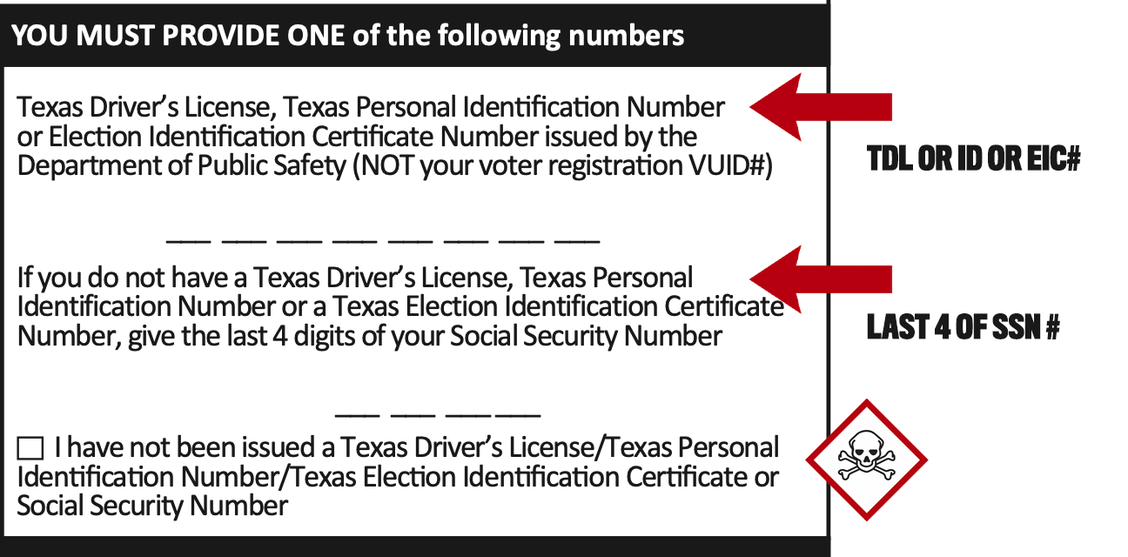 We recommend that you DO NOT CHECK the last box.
Register as a KBAD Volunteer
We encourage new and existing KBAD members and volunteers to register for an Evergreen account immediately. Get started by clicking the green "Check In" button to complete your sign-up as a KBAD volunteer.
How to set up an Evergreen account
KBAD is all about making connections in our communities, and that starts with our neighborhoods. And to be successful we need volunteers who can knock on doors, register voters, host social events and help with community service projects.
Set up your Evergreen account today and sign up to help with one of the following areas and let us know if you have any particular resources, skills or expertise that might be helpful in our 2022 Get-Out-The-Vote efforts.
block walking and door knocking
register voters at community events
host social events
talk to voters on the phone
create and share voting information
social media outreach
outreach to Spanish-language speakers
outreach to young and new voters
Get started by clicking the green "Check In" button to complete your sign-up as a KBAD volunteer.
IMPORTANT: After clicking the "Check In" button, you will be prompted to sign in to Humanitru. You will most likely have to register for an account at this time by clicking the "Register Here" button.
Screenshot of Humanitru Sign-Up Page