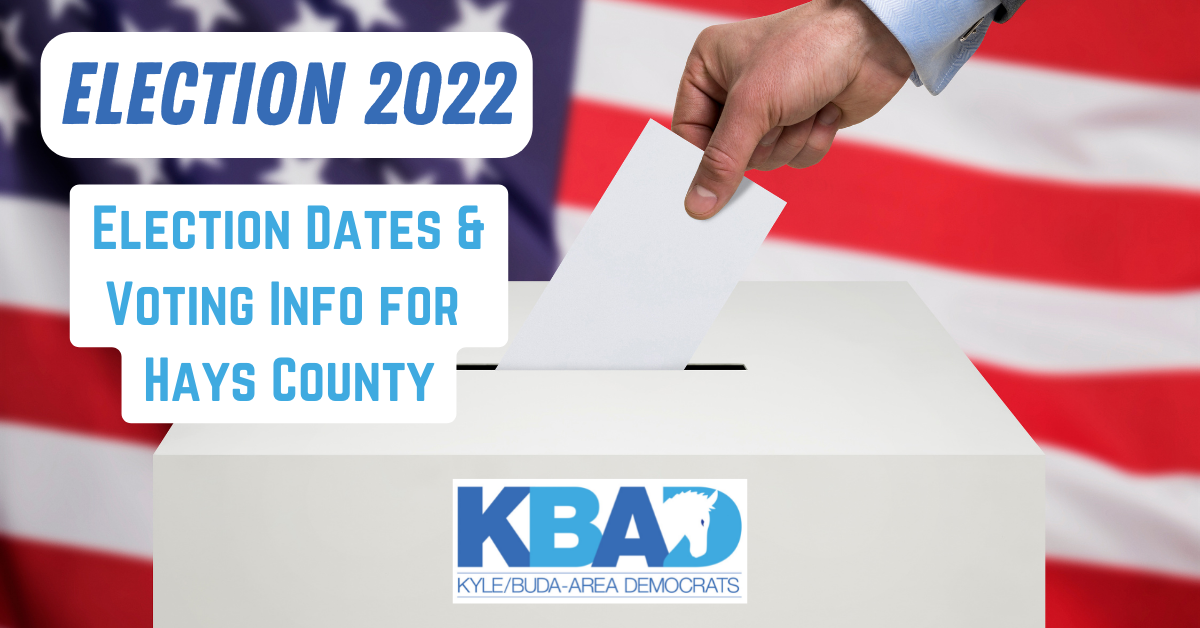 Are you ready to vote in Hays County?
Countywide Polling Sites
Hays County voters can vote at any polling site on Election Day. In the past, voters had to vote at their assigned precinct. The new countywide polling system allows registered voters to cast a ballot at any Hays County vote center, regardless of the precinct in which they live.
Polling Sites
Some polling sites have changed. See the links below to see lists of the new polling sites.
Printable Election Location Lists
Important Upcoming Election Dates
Oct. 11 — Last Day to Register to Vote
Oct. 24 — First Day of Early Voting
Oct. 28 — Last Day to Apply for a Vote by Mail Ballot (Received not postmarked)
Nov. 4 — Last Day of Early Voting
Nov. 8 — Election Day
Early Voting Period
Early Voting Week 1
Monday, Oct. 24, 2022 – Friday, Oct. 28, 2022; 8 AM – 6 PM
Saturday, Oct. 29, 2022; 7 AM – 7 PM
Sunday, Oct. 30, 2022; noon — 6 PM
Early Voting Week 2
Monday, Oct. 31, 2022 – Friday, Nov. 4, 2022; 7 AM – 7 PM
Hays County has voting machines are called ballot marking devices and feature improvements over the previous machines.
Voter-friendly electronic voter interface
Easy-to-read, anonymous printed vote records
ADA-compliant accessible interfaces
Watch a Video to See How the Machines Work
Interactive Voting Location Maps
Early Voting Locations Map
Click on the map below to open an interactive map to see specific locations around the county.
Election Day Voting Location Map
Click on the map below to open an interactive map to see specific locations around the county.
The Hays County Democratic Party has compiled a list of answers to frequently asked questions about voting by mail.
Check out the list of great Democratic candidates on 2022 Hays County ballots. Vote Democrat all the way down the ballot!
Why should you vote for Democrats all the way down the ballot?
This is very important election year with many key state leadership positions on the ballot, including Governor, Lt. Governor, Attorney General, and many more. The Democratic Party has a strong slate of candidates running, and you can learn more about each of them by visiting HaysDems.org. There are also leadership races for city council and Austin Community College as well as bond issue propositions for Kyle roads and to expand programs at ACC. 
There are contested city council elections in Kyle. In Kyle, the District 1 city council seat, which is an at-large race all residents can vote in, has six candidates running for an open seat: Bear Heiser, Marina Tupikov, Marc McKinney, Nick Madsen, Neal Breen, and Amanda Stark. And in District 3, incumbent Robert Rizo is running for re-election against challenger Miguel Zuniga.
Kyle voters have a bond issue proposal on the ballot that would enable the city to spend $294.4 million on road improvement projects. More info is available at KyleBonds.com.
Hays CISD voters will also be able to vote on an ACC bond proposition that would provide a $100 million expansion for health sciences programs, including nursing, at the Hays Campus in Kyle. For more info visit sites.austincc.edu/2022-bond
Election Day Voting Sites
You can vote at any Election Day voting site in Hays County, but these are the ones located in the Buda, Kyle, and Uhland areas.
BUDA
Buda City Hall
405 East Loop Street, Building 100, Buda
Buda Elementary School Upper Campus (Historic School Site — Kunkel Room)
300 N San Marcos St, Buda, TX
Hays Hills Baptist Church
1401 N Farm to Market 1626, Buda, TX
McCormick Middle School
5700 Dacy Ln, Buda, TX
Southern Hills Church of Christ
3740 FM 967, Buda, TX
Sunfield Station
2610 Main Street, Buda, TX
KYLE
Austin Community College — Hays Campus
1200 Kohlers Crossing, Kyle, TX
Hays CISD Admin Office/Arnold Transportation Building
21003 Interstate 35 Frontage Road, Kyle, TX
Hays County Precinct 2 Office
5458 FM2770, Kyle, TX
Kyle City Hall
100 West Center Street, Kyle, TX
Live Oak Academy High School
4820 Jack C. Hays Trail, Kyle, TX
Simon Middle School
3839 FM150 W, Kyle, TX
Tobias Elementary School
1005 FM150 W, Kyle, TX
Wallace Middle School
1500 W Center St, Kyle, TX
Yarrington — Hays County Transportation Department
2171 Yarrington Road, Kyle, TX
UHLAND
Main Office — HCISD Transportation Department
2385 High Road, Uhland, TX
Learn about the candidates
Read candidate questionnaire answers on the League of Women Voters' Vote411 website, which features a customized ballot based on your address.
Check your voter registration status
Visit the Secretary of State's website to check your voter registration status.