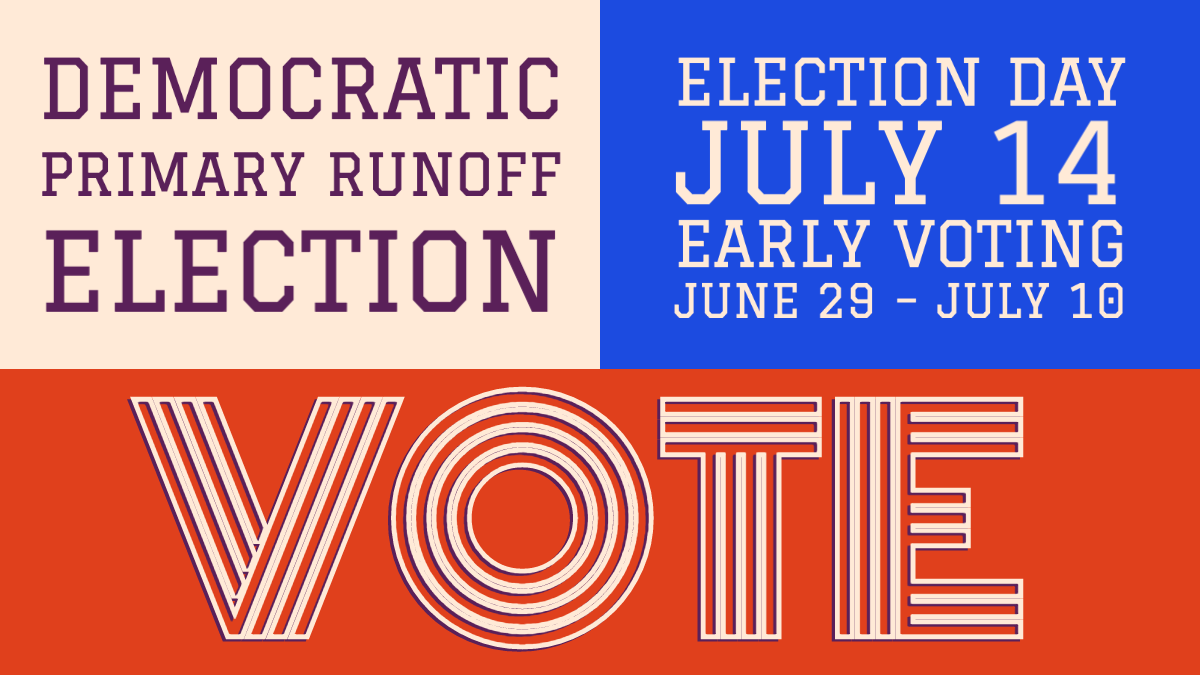 Early Voting for the Primary Runoff Starts on Monday
Three races will appear on the Democratic Primary Runoff ballots: U.S. Senate, Texas Railroad Commissioner, and chair of the Hays County Democratic Party. Be sure to cast your vote!
Election Information:
Election Day is Tuesday, July 14: 7 a.m.– 7 p.m.
Early voting runs from June 29 through July 10:
Monday, June 29 – Thursday, July 2: 8 a.m.–5 p.m.
Sunday, July 5: 10 a.m.–5 p.m.
Monday, July 6 – Friday, July 10: 7 a.m.– 7 p.m.
(No voting on July 3-4 in observance of Independence Day.)
Voting Locations in Buda, Kyle and Niederwald
Kyle City Hall — Early Vote & Election Day
100 West Center Street, Kyle
Buda City Hall — Early Vote & Election Day
405 East Loop Street, Building 100, Buda
Tobias Elementary School — Election Day
1005 FM 150, Kyle
Wallace Middle School — Election Day
1500 West Center St., Kyle
Hays Hills Baptist Church — Election Day
1401 North FM 1626 Buda
Hays CISD Transportation Main Office — Election Day
2385 High Road, Uhland
Interactive Voting Location Map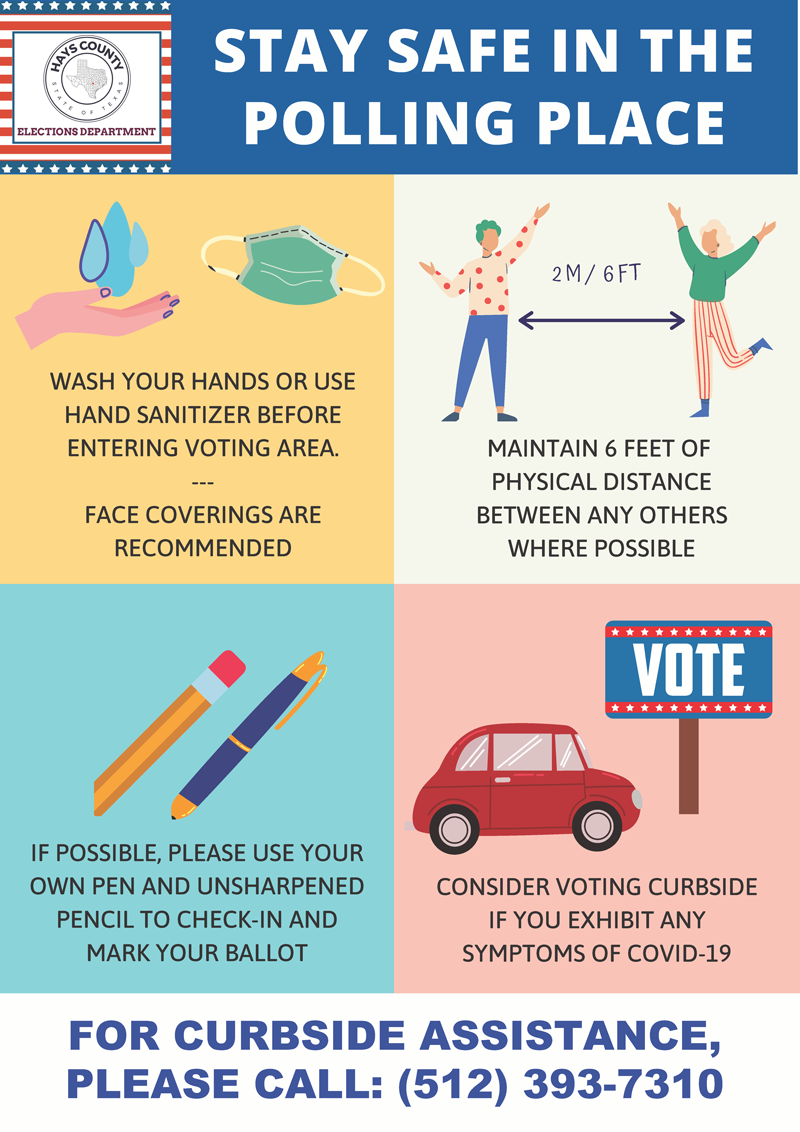 Ballot by Mail Information
There is still time to download, print, and mail a Hays County Ballot by Mail application. Applications must be received by the elections office by Thursday, July 2, at 5 p.m.
To be eligible to vote by mail in Texas you must:
be 65 years or older
be disabled
be out of the county on election day and during the period for early voting by personal appearance or
be confined in jail, but otherwise eligible
In a ruling in late May, the Texas Supreme Court said that it is up to individuals to determine if they meet the disability requirement. Texas Election Code defines "disability" to include "a sickness or physical condition that prevents the voter from appearing at the polling place on Election Day without a likelihood of needing personal assistance or of injuring the voter's health" (Texas Election Code § 82.002).
In reporting on the ruling the Texas Tribune wrote, "When voters cite disability to request an absentee ballot, they're not required to say what the disability is. The voters simply check a box on the application form, and if their application is properly filled out, local officials are supposed to send them a ballot. The state ultimately conceded that officials can't reject those voters."
1. Complete sections 1-4 with your personal information.
2. In section 5, check the box that qualifies you to receive a ballot by mail. If you have determined that voting in person could injure your health as defined in Texas Election Code, check "Disability" in box 5 but do not write anything else in that area. Do not list your disability, COVID-19, or anything else.
3. In box 6a, check "Annual Application" so that you will automatically get mail-in ballots for the rest of 2020. You must also check "Democratic Primary" and "Any Resulting Runoff" to vote in the July 14 runoff election.
4. Be sure to sign your application in box 10.
5. Mail your application to the Early Voting Clerk at the address on the form.
Polling Place Precautions
Increased precautions need to be observed to stay safe in the polling place.
Sanitize or wash your hands before and after entering the voting area.

Wear a mask at all times

Maintain 6 feet of distance between others (including while waiting in lines outside of the polling location).

Consider bringing your own pen and pencil to check-in and mark your ballot. You can use the eraser end as a stylus so you don't have to touch the voting machines.
Use curbside voting if you exhibit any symptoms of COVID-19. For curbside assistance, call 512-393-7310.