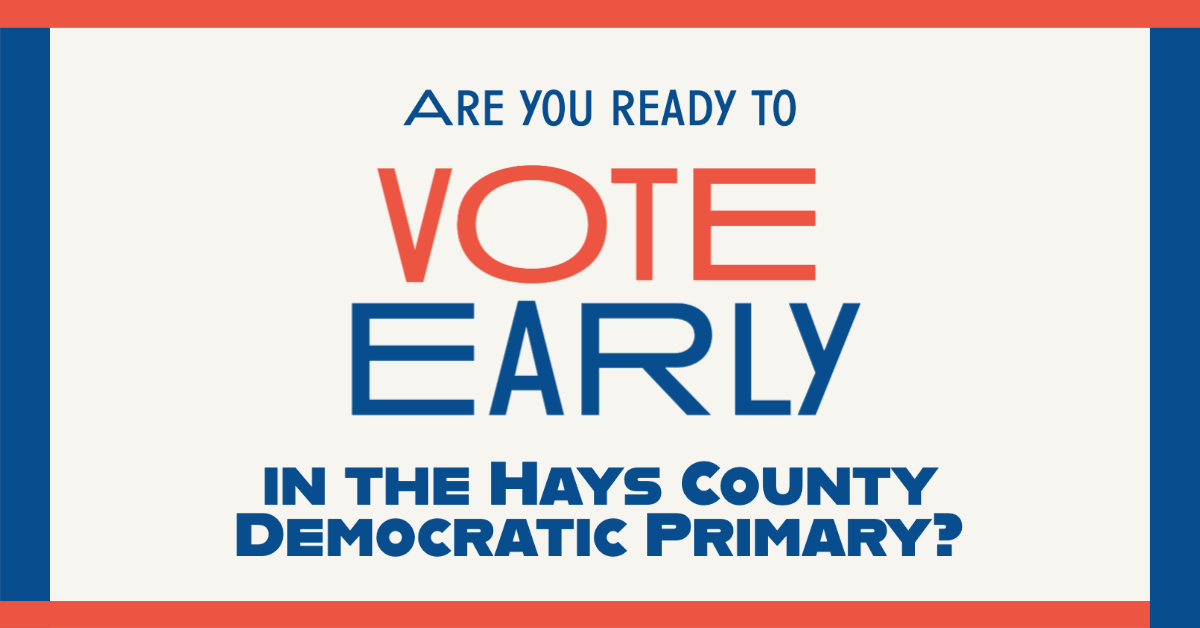 Are you ready to vote in Hays County?
COUNTYWIDE POLLING SITES
You can vote at any polling site during Early Voting and on Election Day, March 1, 2022.  The countywide polling system allows registered voters to cast a ballot at any Hays County vote center, regardless of the precinct in which they live.
Early Voting Dates
These are the 2022 Early Voting dates in Hays County.
Monday, 2/14/22 – Friday, 2/18/22; 8 a.m. – 5 p.m.
Saturday, 2/19/22; 7 a.m. – 7 p.m.
Sunday, 2/20/22; noon — 6 p.m.
Monday, 2/21 — Polls closed for President's Day
Tuesday, 2/22/22 – Friday, 2/25/22; 7 a.m. – 7 p.m.
MOVED POLLING SITES
Some polling sites have changed from previous elections. See the list and links below to see lists of the new polling sites.
Interactive Voting Location Map
Early Voting Locations in Buda & Kyle
All of the polling sites listed below will be open during Early Voting and on Election Day.
Hays CISD Admin Office/Arnold Transportation Building
21003 Interstate 35 Frontage Road, Kyle, TX
Kyle City Hall
100 West Center Street, Kyle, TX
Live Oak Academy High School
4820 Jack C. Hays Trail, Kyle, TX
Simon Middle School (HCISD Clothes Closet)
3839 East FM 150, Kyle, TX
Yarrington — Hays County Transportation Department
2171 Yarrington Road, Kyle, TX
Buda City Hall
405 East Loop Street, Building 100, Buda
Sunfield Station
2610 Main Street, Buda, TX
Election Day Voting Locations
Additional Election Day Sites
In addition to the early voting locations listed above, the following polling sites in the Kyle/Buda area will be open on Election Day on March 1.
Main Office — HCISD Transportation Department
2385 High Road, Uhland, TX
Precinct 2 Office, Hays County
5458 FM 2770, Kyle, TX
Tobias Elementary School
1005 East FM 150, Kyle, TX
Wallace Middle School
1500 West Center Street, Kyle, TX
Buda Elementary School Upper Campus (Historic School Site — Kunkel Room)
300 North San Marcos Street, Buda, TX
Hays Hills Baptist Church
1401 North FM 1626, Buda, TX
McCormick Middle School
5700 Dacy Lane, Buda, TX
Southern Hills Church of Christ
3740 FM 967, Buda, TX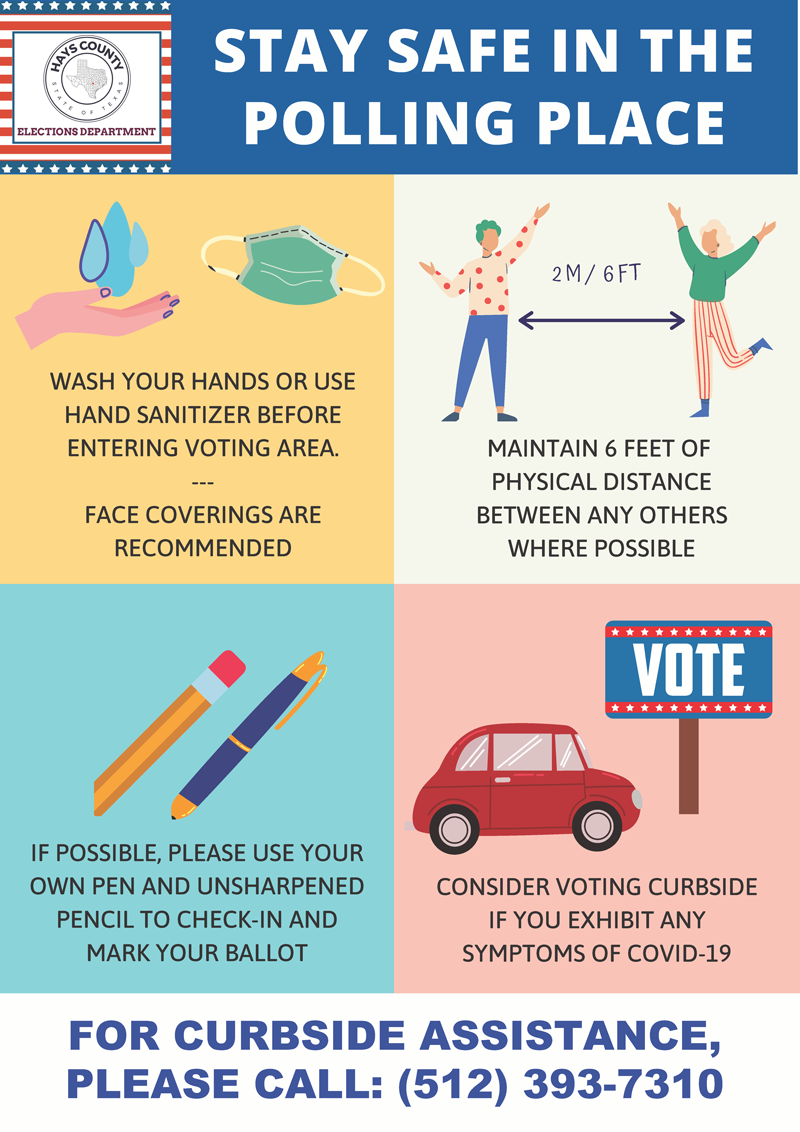 Ballot by Mail Information
There is still time to download, print, and mail a Hays County Ballot by Mail application. Applications must be received by the elections office by Friday, Feb. 18 at 5 p.m.
To be eligible to vote by mail in Texas you must:
65 years or older
A person with a disability
Out of the county on election day and during the period for early voting
Confined in jail, but otherwise eligible
This year, the Texas Legislature made it even harder to receive a mail-in ballot with a new law called SB 1. One of the many voter suppression tactics built into SB 1 is a duplicitous ID requirement that is wreaking havoc all across Texas and causing thousands of new Vote by Mail applications to be rejected.
This new law requires the elections officials to check the mail-in ballot application for ID or last four of your SSN and compare with the voter file. If your numbers do not match the number you used last time you registered to vote, the elections official can deny your application. The language is deceiving, as it states "if you do not have a TDL, give the last four digits of your SSN". However, you need to put both to ensure that the number you place on the application is the same as in your voter file.
SO, PLEASE be sure to put BOTH your ID number and the last four digits of your SSN on your Vote by Mail application!
Many Texans are overlooking this new, (easily missed) requirement and as a result, election officials in all counties are taking this opportunity to reject Vote by Mail applications.
The form can be found at the link below. Note: This is a PDF form that you can type directly into. All you need to do is PRINT it out. Please be sure to put both numbers on this application. (see example graphic below)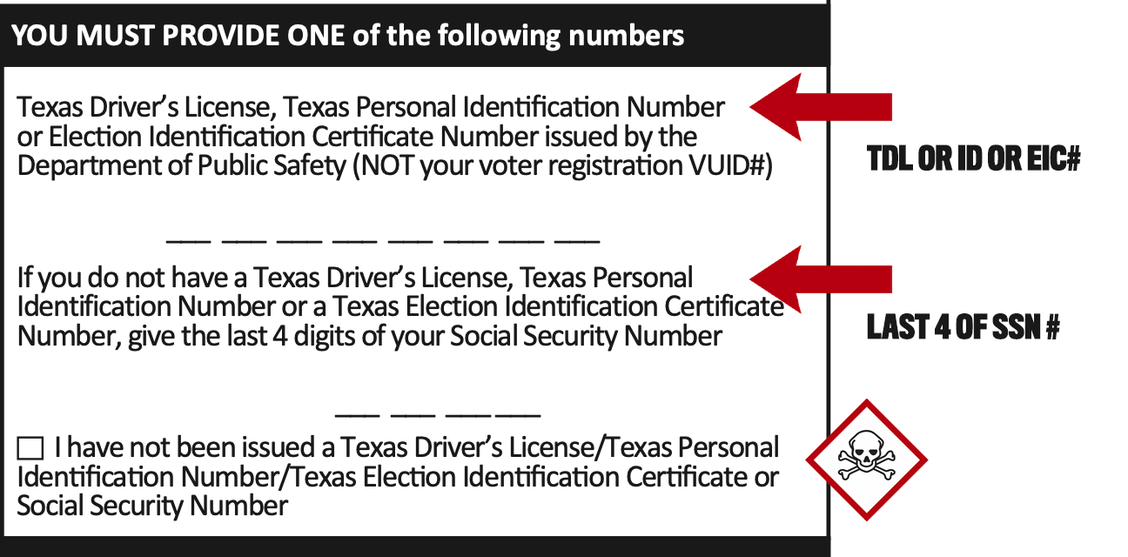 Hays County Democratic Party Candidate Voter Guide
See the Hays County Democratic Party's Voters Guide to learn about the candidates.
Watch the video of the KBAD Primary Candidate Forum to hear directly from the candidates that responded to our invitations to particpiate.
View the full list of candidates appearing on the Hays County Democratic Party Primary Election ballot.
League of Women Voters Ballot Info
Enter your address on the League of Women Voters website to view candidate info for the candidates that you will be able to vote for based on where you live.