Describe your community involvement in Kyle.
Since coming to Kyle, my wife and I have served with the Chamber of Commerce, volunteered for the Kiwanis Club, community race days, church events, Hays County Food Bank drives, among other great causes. We believe in giving back as much as possible and are teaching our children to do the same.
What is your favorite thing about living in Kyle?
Despite the growth that Kyle has seen since I moved here over 10 years ago, the community is just as tight-knit. Whether it's our neighborhoods, community events or school-related functions, every member of my family loves the relationships they've developed over the years.
Many voters are concerned about the future of Kyle. Generally, what kind of place do you want to see Kyle be in 5 years? 10? 20?
I have long said the future of Kyle should be top-of-mind with any qualified candidate for Mayor or City Council. That's because the facts are simple: growth between Austin and San Antonio cannot be stopped. Cities who fight against growth often do so by failing to proactively work on needed infrastructure projects (a common criticism in Austin development) or turning down good development only to see bad development take its place. 
I'm all about breaking the stereotypes of Kyle as a bedroom community. For years, I have focused on recruiting quality employment and retail to the area. I have worked with the City Council to make historic investments in our infrastructure. We have expanded our parks systems. We passed a substantial and historic $294 million roads bond, where 70% of the funds will build up roads east of IH-35. And we have cultivated new mixed use districts with live-work-play models of planning.
Ultimately, I want Kyle to be a place where there's opportunity for everyone, where families are welcomed and supported within the community, and the quality-of-life in Kyle improves incrementally each and every year.
This has been one of the hottest, driest summers on record. Kyle has had to buy water from San Marcos two years in a row. How should Kyle address the city's immediate and long-term water needs?
Kyle's request for temporary water is similar to when Buda made the same request from Kyle a few years ago. Ultimately, we all draw from the same supply, and we are all partners in the Alliance Regional Water Authority project which, after coming online in the coming months, will increase our regional supply many times over. It's critical that Kyle continue to support the Alliance project until completion.
That said, supply is only half the equation. We also need to address demand. In truth, residential irrigation draws down the overwhelming majority of Kyle's water supply. It's all those thirsty lawns. Others on council and myself are advocating for 1) partial xeriscaping requirements in commercial and residential neighborhoods, 2) conservation programs that reward folks for good behavior, 3) development of a robust reclaimed water program in Kyle and 4) new urban development patterns that channel water resources to common areas instead of sprawling new subdivisions with endless private irrigated lawns.
To say that Kyle is growing quickly is an understatement. Do you have any concerns about this growth, and what can be done to minimize any negative impacts new homes and businesses may have on our infrastructure and community?
The growth of Kyle has been my top concern since 2016 when I first ran for council. I knew it was coming and was not happy with how little planning was happening at City Hall. Back then, we were hopelessly behind on infrastructure and, simultaneously, most of the residential development happening now was already entitled. 
We still have a long way to go. We are catching up, but it's imperative that Kyle moves forward with the projects underway. We have roads to reconstruct. We have a regional sportsplex funded, but now we need to build it. Our downtown is full of so much potential. Our plan for walkability is coming together. Our community needs a community center. Real plans are finally forming to make that happen. 
Make no mistake: I'm running for a third and final term to continue being a get-work-done mayor.
What is your position on book banning and efforts to limit access to some books in the public library?
My wife is a librarian at a HaysCISD school. To me, librarians are the best arbiters of their collections, not politicians or parents who want to unfairly restrict our children's access to information simply because they don't like the point of view. 
I DO NOT support the initiatives of elected officials who seek to weaponize libraries to polarize our community.
How can the city work to make sure that currently underserved communities do not continue to be underserved?
"Underserved" means something different to every city. Here, in Kyle, we have been laser-focused on providing the right investments to support our community – regardless of income or heritage.  Recently, we drafted a Comprehensive Plan that revolves around the idea of steering development to areas with proper infrastructure (also known as infill). Allowing for pockets of density centered around pre-built infrastructure is efficient and, importantly, lowers the overall cost of living in a community. Furthermore, this development strategy promotes synergy for parks, retail, and walkability (commonly known as the Strong Towns model).  It also frees up resources for the city and county to preserve more land to be left as parks and open space.
An equally important benefit of this direction is the diversification of housing supply. As the prospect of home ownership becomes increasingly impossible for those in lower income brackets, Kyle should embrace allowing for more than just large lot residential. Don't think apartments all over town. Think townhomes, duplexes, and condos, all within close proximity to quality-of-life amenities and appropriate infrastructure. 
Unquestionably, home ownership is a large component of individual long-term financial stability and prosperity. That dream should be attainable for every single person and family who wishes to make a home in Kyle, TX.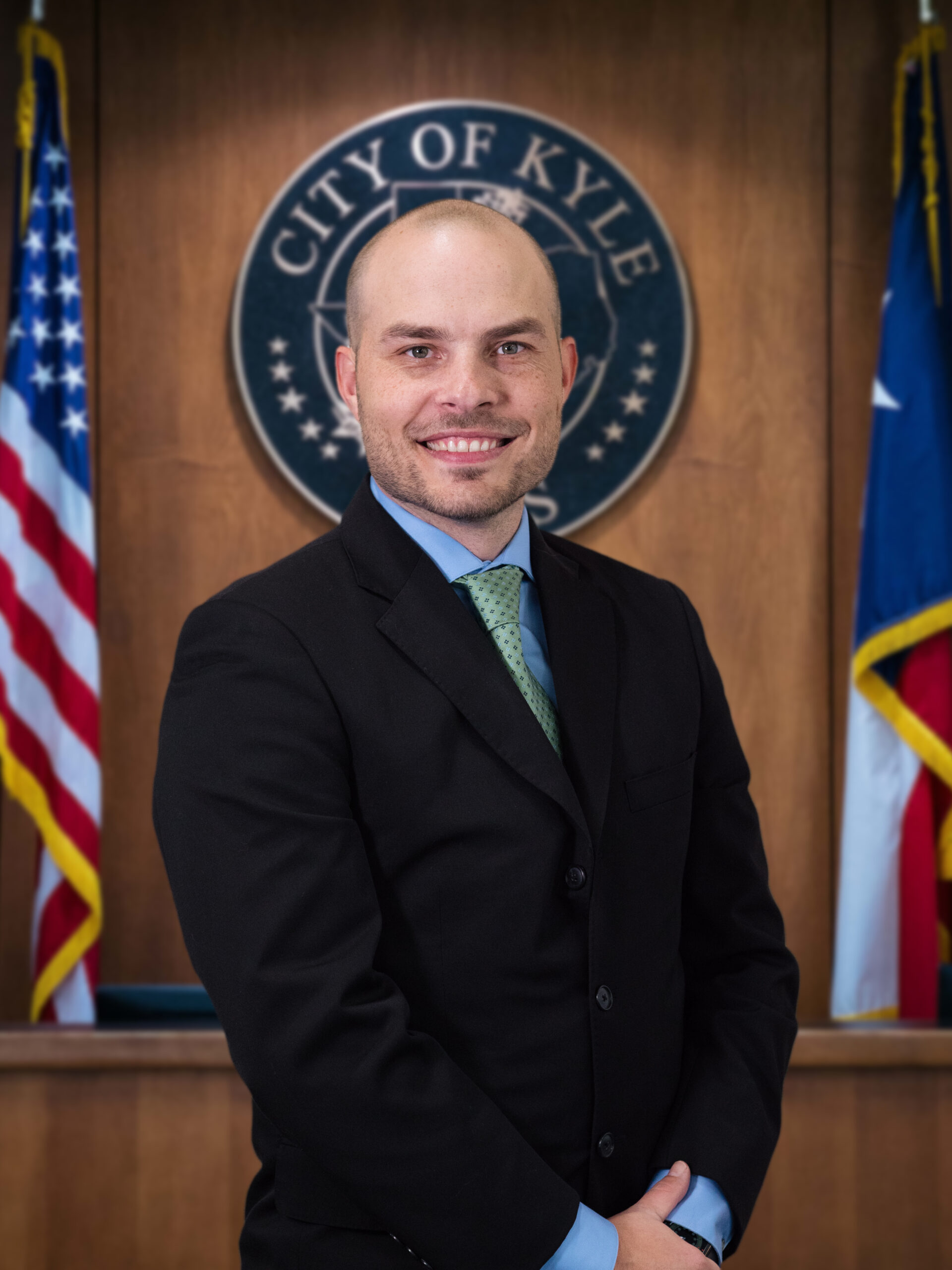 Name
Travis Mitchell
How can voters contact you?
In a few sentences, tell us about your background. Include in your answer information about your education, employment, and leadership experience.
I am a graduate of Texas A&M and have completed graduate level coursework at UT as I pursue an MBA. My wife and I moved from Austin to Kyle in late 2012 after purchasing land to build a business. Since 2016, I have served on the Kyle City Council, alongside 18 council members and two city managers. The experience I have gained in that time is invaluable to the tasks of being a resourceful and successful mayor and community leader.
Hays County uses vote centers, meaning Hays County voters may cast ballots  at any vote center in the county during the times the vote centers are operating.
Hays County Voting Dates and Times
These are Hays County's May 2022 Election Day Voting locations. Registered Hays County voters can vote at any of these locations.
Early Voting: October 23 - November 3, 2023
Monday, October 23 - Friday October 27: 8 a.m. – 5 p.m.
Saturday, October 28: 10 a.m. – 6 p.m.
Monday, October 30 - Wednesday, November 1: 8 a.m. – 5 p.m.

Thursday, November 2 and Wednesday, November 3: 7 a.m. – 7 p.m.
Election Day: Tuesday, November 7 — 7 a.m. – 7 p.m.