What should the city do to protect the safety of its citizens from the proposed Permian Highway Pipeline?
I believe that the City of Kyle council has already taken appropriate measures to try to get Kinder Morgan to re-route the proposed 42-inch pipeline by taken legal action against the Permian Highway Pipeline. I believe that citizens need to rally and support the council on this decision. The safety of our citizens should be the utmost priority. Having attended a number of informational meetings around Central Texas on the Kinder Morgan pipeline. I have an understanding and have gained vital information that will be beneficial if elected to council.
If SB2 passes, how will this property tax legislation affect the city over the next 5 to 10 years?
SB2 is a tax management rate that is being proposed by our state's legislature.
This bill was created to give citizens more say in their tax rates. Mayors throughout the state have spoken out against SB2 saying it would slow growth and a city's ability to run on a daily basis while many citizens support this bill.
Kyle is a booming city. How will you balance Kyle's need for additional infrastructure with a reasonable tax rate?
We have many Capital Improvement projects, roads and drainage needs. Working with city staff finding cost effective solutions and addressing projects at a priority level will be key to composing the upcoming budget. By attracting businesses to Kyle, sales tax can help alleviate the tax burden for its citizens. By approaching growth with smart and common sense leadership we can keep Kyle's tax rate low. 
How would you characterize the current debt of the city? What is a realistic debt for a city the size of Kyle?
We have a large debt, we need to review the budget and try to find areas where we can start redirecting revenue towards paying down our debt. It is never good to have debt, but with growth we have to address infrastructure. With smart planning we can continue to grow and help keep our debt reasonable.
What are your thoughts about Kyle's affordable housing situation? If more is needed, how would you provide for it?
I believe Kyle is still an affordable place to live. In order to keep Kyle's affordability, we need to attract new businesses, that would increase the amount of sales tax that the city takes in. In turn that will help elevate some of the tax burden from our citizens. Our main goal should be to keep families in Kyle.
Kyle has made several attempts at public transportation, including a limited trolley service and a subsidized taxi service. What are your thoughts about the need for public transportation in Kyle? How would you fund and provide it?
Kyle has a large senior citizen population and we need to address transportation needs for our seniors. Getting to doctor appointments can make a difference for someone who can no longer operate a motor vehicle or provide their own means for transportation. Reaching out for federal grants or local charities would help absorb some of the costs. Public transportation needs are being minimized with services like Uber and Lift.
If elected, you could run for reelection and be eligible for the new compensation package proposed by the Citizens Compensation Committee. What do you think is a reasonable monthly compensation for a City Council member in a city the size of Kyle?
After speaking to present and former council members on a regular work week, they can spend upwards to 15 to 25 hours a week. This does not include workshops when preparing the budget. I will not be seeking insurance, if provided, saving taxpayers $438 a month automatically, if insurance is approved. Reviewing the budget would be vital to determining what would be suitable for compensation and gathering all information obtained from the Citizens Compensation Committee. Keeping in mind this is compensation, not a full-time position.
Should Kyle give economic incentives to attract businesses, or is the city's location on the I-35 corridor and its position as one of the fastest-growing cities incentive enough? Explain.
We have to be creative when giving incentives to attract new business to Kyle. Making it more effective and timely permitting process would help lure more business to Kyle. Kyle has reached a population of 50,000 plus and more businesses will be attracted to Kyle. We also have to be careful not to forget the businesses that are already serve Kyle.
Considering Kyle's current growth toward the west with a projected 20,000 LUEs (living unit equivalents), does the city have the necessary environmental regulations in place to prevent the pollution of the Blanco River and other watersheds? If so, please explain. If not, what would you propose?
We need to re-visit our environmental regulations, the original regulations were set up for a rural and farming community. We are now a city and have to re-visit how to protect our most valued treasure. Protecting our Aquifers and Rivers will provide fresh water needs for generation to come.
Law enforcement is one of the largest expenses in the city's budget. What are your thoughts about the size of Kyle's police force and if they are being deployed adequately?
Our Police Department is currently undermanned and is having a difficult time retaining officers. We have to find incentives to keep our police department staffed. Giving our officers the tools needed to effectively keep our citizens safe will create a great work environment.
How well is Kyle planning for the future in general? How well is the city prepared for another flood like the one in October 2015? What improvements would you suggest?
Kyle is still trying to catch up from our last major flood. When flood waters resided, I formed a team and went out to help with the clean up. I noticed coverts not being large enough to handle flood waters and noticed neighborhood fences acting as dams. I believe we have to take a hard look at the areas that were affected by the flood.information I gathered while helping the flooded areas gave me some insight of what is needed. Working with city engineers it is my hope to prevent future preventable flooding.
What suggestions do you have for encouraging more citizen participation in our government?
I believe that we should have more town hall meetings and be accessible to our constituents. When I first ran for council, it was my hope to encourage more voters to come to the polls. Being a visible part of the community, it was my goal to bring back voters who had not participated in recent elections. City leaders that are visible in their communities will encourage participation.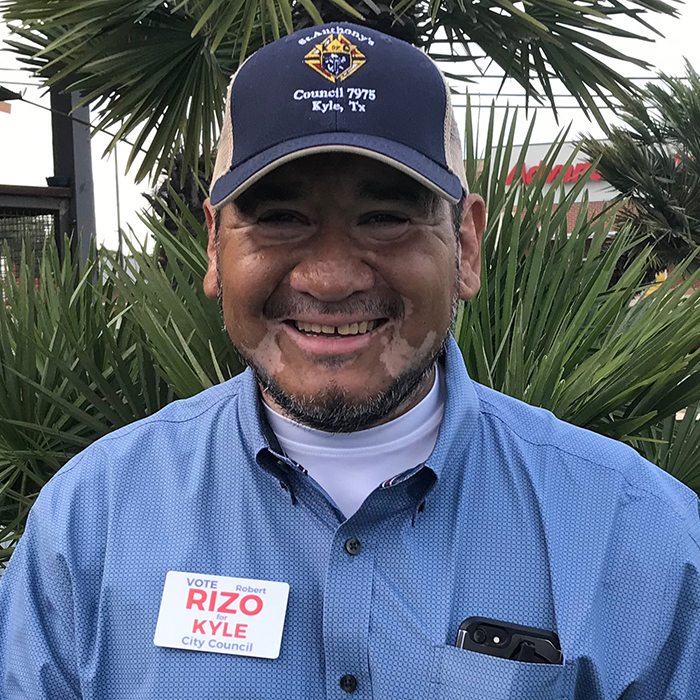 Name
Robert Rizo
How can voters contact you?
email or Facebook or 512-659-6744
Describe your educational background
After high school (Jack C. Hays High School) I was pursuing a Liberal Arts degree where I developed a passion for History. I have traveled extensively around the United States and have made it a point to visit historical sites. When I retire from my career, I would love to teach history to the next generation. I have been teaching Religious Education for middle school and High school at my parish of Saint Anthony's for over a decade, and will carry this experience to the classroom.
Describe your relevant employment background
I have been in commercial property management for 26 years at different levels. I develop strong relationships with large and small businesses throughout the Austin area and have seen first hand how a city can make it difficult for businesses to thrive. This experience if elected to council will benefit our local businesses. I have worked with the Austin police department, code inspectors, permitting, I oversee commercial projects and work with contractors. Growing up in Kyle I worked for many of the local small businesses and have an understand on how important these businesses are to the community.
Describe your leadership experience background
Being a supervisor in my company, I oversee contractors, employees, and tenants. Being appointed St. Anthony's pastoral council, I worked on a board to oversee goals for our parish. As president, trustee, and chancellor of the Knights of Columbus, I led meetings and am familiar with Robert's rules of order. I helped generate the councils budget, planned activities, fundraisers, community service, coordinated community outreach programs, scholarship program that benefits both Hays and Lehman graduating students. To be an effective leader you have a visible presence in your community.
This is a special election to fill the Place 3 seat on the council, which is an at-large council seat, meaning that any registered voter in the City of Kyle can vote in this election. This seat was unexpectedly vacated when former council member Shane Arabie resigned in February.
The Kyle City Council is composed of a Mayor elected at-large by the people for a three-year term and six Council Members, three elected at-large and one from each of the three districts, for staggered three-year terms.
Whoever wins this special election in May will have to run again for a full three-year term later this year in a race that will be on the Nov. 5, 2019 ballot.
Kyle City Council EARLY VOTING LOCATIONS 2019
Click on the image below to see an interactive map of the Early Voting locations for the Kyle City Council election.
Click on the image below to see an interactive map of the Election Day voting locations for the Kyle City Council Place 3 election.