There are several large commercial, retail, and residential development projects currently under construction in Kyle. Do you have any concerns about them or how well our current infrastructure can support them?
I have concerns about narrow lanes throughout various areas of our city and congestion of traffic during heavy times of the day. This presents problems for emergency vehicles and service to our residents. I would like our existing roads improved to accommodate our growth and installation of more sidewalks and parking areas in our downtown. We must also repair and manage our underground infrastructure such as water retention tanks, our drainage, and wastewater pipes and pumps. To better serve our residents we need to work with the county and state to build a third fire station somewhere on the southeast IH35 of our city. With increased development and the growing population, our water resources and infrastructure will be under more pressure, and more homes in potential risk for flooding. We must have leadership that can anticipate these roadblocks and that can work with planning and zoning to find the best solutions to grow our city without compromising quality or the safety for our residents. 
What can be done to ensure builders are paying their fair share so the infrastructure is done right when they build in Kyle?
We need to have a completion list from planning and zoning that makes sure all roads, sidewalks, curbs, street light intersections, drainage, and fire hydrants are compliant with the standards for building. We should budget more to increase the permit department so that we have enough inspectors to review all developments from the initial to the final stages. We can increase impact fees and make ordinances that require more green spaces and investment of greater road improvement by developers. We can also charge fees for connections to our sewer and waste-water treatment fees for developers. Developments should have a certain amount of beautification funds set aside to maintain lights, pools, signage, and costs to clean up shared streets into the development. 
What are your thoughts about Kyle's affordability as a place to live? How would work to ensure Kyle is an affordable city going forward?
Kyle has many apartments and affordable housing programs in our community, but there is still much work to be done. For example, we can work with developers to bring in smaller homes or include more affordable homes when planning larger subdivisions. I would work with planning and zoning to increase medium density and allow residents to build in the infill lots that are vacant throughout the city. We need to work to keep Kyle affordable for all residents regardless of their income, special needs, or age. By having a home that residents can own, it will provide them an asset when they retire and improve the sense of pride of homeownership in their communities. 
Law enforcement is one of the largest expenses in the city's budget. What are your thoughts about Kyle's police force and if they are being deployed adequately and appropriately?
I believe the budget for our police and safety personnel is appropriate for a city our size. I would like to see more of the funding used to fill code enforcement and in mental health services as well as having additional community officers and volunteers. Recently, I've participated in the Kyle Citizens police academy and seen firsthand how great our department is and how involved they are. Our police force raises money for gifts for kids, volunteers, and fundraisers, educate our community, and participate at all city events and in our schools. We have a great police department, and they are providing a great amount of service to our residents. Our police are the first responders for our community, they work hard to keep our businesses and neighborhoods safe, so I believe they are being used appropriately. Going into the new public safety center there is going to be a lot more opportunities for community and police officer partnerships to have learning programs and to be more active in seeing and observing how active our police force is working for our community and residents. 
Drought has been on residents' minds this year. How should Kyle address the city's immediate and long-term water and wastewater needs?
We need long-range water supply plans for conservation of water and to sustain adequate drinking water throughout our community. I believe investments in recycling and conservation are essential and critical components to ensure we are maintaining and preserving our natural resources. Reclaimed water used for flowering and green spaces is a great program that we need to continue investing in. The city could offer a scaled fee rate to homeowners that use less water based on meter usage and could also start a program to offer a rebate for older toilet exchanges. Toilets from the early 90s are high gallon and result in using much more water than newer updated styles and models. I would also like to see more water collection drums on certain buildings with the appropriate rooftops that can have gutters down to the collection drums. This water can be used to water grass and to wash driveways. There are also many solar panel installers that could place them on newer public buildings such as our schools and we get a credit back for the amount of electricity that is resupplied into our electric grid. 
How well is Kyle planning for the future? What improvements would you suggest?
Kyle is attempting to follow the downtown revitalization plan and comprehensive plan for our community. There are great ideas for planning in both these plans but more needs to be done to include amenities and diversity them in undeveloped areas of our community. The plan is a good road map for us to build on, but it doesn't consider areas where flooding could occur if developments are built on floodplain areas. I would like to see all major roads widened by building partnerships with the county and surrounding cities. Although it is not in the city's budget, I would like to work with the county on building a third fire station southeast of IH35 is essential as well as a community center for our senior citizens and a public library for all residents to enjoy is critical as well. Building additional mixed-use retail areas is also great for our community and we need to continue to work with economic development and planning to get the best from the developers on mixed use housing. We need to remain forward thinking and, of course, increase our sales tax revenue so that means encouraging our city to be business friendly and be flexible with our permitting and strategic with incentives. Along our IH35 corridor, we should be attracting large manufacturing and high-tech employers that will provide jobs for our residents and support our local economy. 
What should the city council do to support local businesses?
The City Council can increase budget funds for small grants and low-interest loans to help assist local business owners so they can increase products or hire more part-time or full-time workers. Our small business owners are the fabric of our communities, and they are the people that we get to know face to face and build relationships in our communities. Small business owners are invested just as much as our residents in seeing our communities grow and thrive and support our schools, our students, and our community. I would like to see city council also revitalize the brick-and-mortar buildings that are outdated so that family-friendly oriented restaurants and services can be opened downtown, the city can also help with increasing the parking downtown and in the beautification of the downtown areas. 
What are your views on Kyle's roads and your position on the Kyle road bond proposition that will be on the ballot this November?
Although I would have preferred to see two separate bonds to deal with our aging roads and underground infrastructure first, I still support the road bond because it will provide additional transit options on the east of IH35 and create more opportunities for residents to get on and off IH35. It does move us forward in a positive direction and will improve some of the congestion of traffic during heavy periods of the day. By spending some money on road improvements it will help to attract more development on the east of Kyle. By increasing the number of roads in our city our residents will have fewer traffic delays and emergency vehicles will be more able to reach our schools and neighborhoods. The cost of the roads is expensive and I believe we should have looked for more county assistance and state funds, so we don't have to shoulder all the cost of the bond. We can also look at increasing road maintenance fees for developments and businesses to have more equal cost-sharing for our residents. 
Selecting a city manager is one of the most important decisions a city council can make. What characteristics do you want the next Kyle City Manager to possess and demonstrate in this important role?
Selecting a city manager is an important responsibility for the new council members, the city is seeking two outside consulting firms to make recommendations on potential candidates. I believe this is a good start, but it's also important to look at the qualifications and track record of how the city manager was performing in his last position and what measurable outcomes did he or she contribute to. Also, how was the working relationship between the city manager, the mayor, and the council members at his last employment? We need to look for a city manager that is approachable and understanding to the needs of the city and the residents. Because we are a growing city, we must attract the best candidate that has the experience and specific skills for our city, but we also need to be careful with the salary for the position and executive package that we are offering. I would like a contingency that expectations for bonuses and compensation are based on the performance on the job. They have to be reasonable and practical for the size of our city and scaled based on a factor that considers the median home income of our residents. The contract should be transparent and renewable based on standard benchmarks and measurable outcomes. 
What are you willing to do to maintain an open dialog with your constituents?
I will be open to communication through all types of social media modes and platforms. Residents will find that I am easily approachable and will respond to any questions or concerns in a timely manner. As a council member, you have a responsibility to be active and visible in the community because you must understand what the residents are facing in the city. Like many others, I will always encourage information and dialogue because that is the best way to resolve misinformation and for the residents to understand why a vote was cast a certain way. Residents are always invited to make comments at city hall and I will do my part to encourage town halls and be at community events to speak with the community.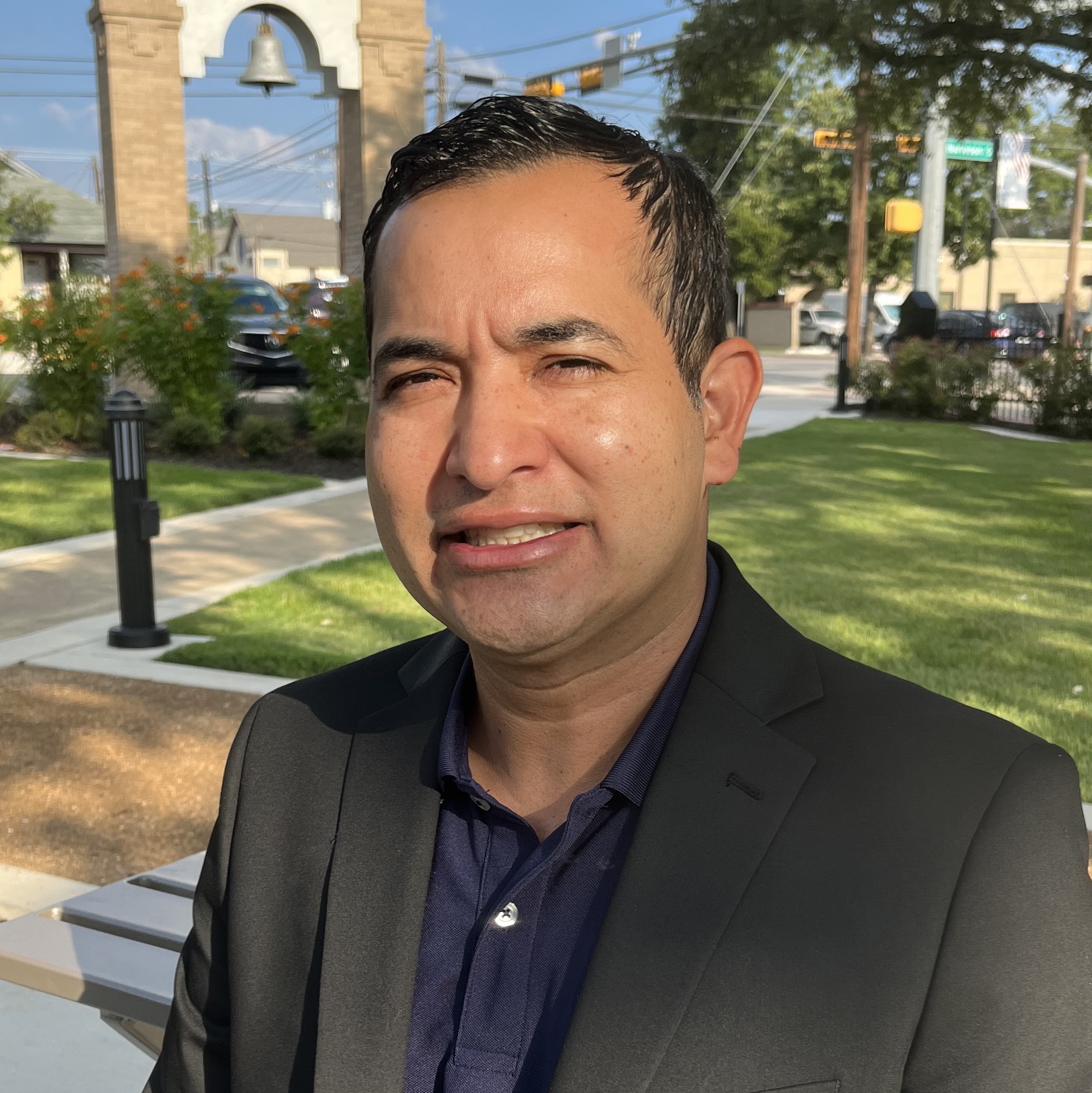 Name
Miguel Zuniga
How can voters contact you?
Describe your educational background
Bachelor's Degree in Chemistry from Texas State, Ph.D. Degree in Organic Chemistry from Virginia Commonwealth University, Post-doctorate UTSouthwestern Medical Center. Former Student of Hays CISD.
Describe your relevant employment background
Chemistry Innovator and Entrepreneur, 20+ years in Research and Development, Private and Non-profit sectors including Start-ups
Describe your leadership experience background
I am running to serve the community, and I believe in compassion and respect for every resident. I will be transparent and accountable and work with our city and staff to move us forward together. I support investments for our infrastructure and encourage developments that bring value to our community. I want to help reduce the tax burdens on our residents, shift our focus on our downtown, and provide amenities to undeveloped areas throughout our communities. 
Describe your community involvement in Kyle
Scientific Educator and Leader, Executive board Secretary and Parliamentarian Simon MS, Kyle Police Citizens Academy, Hays CISD Volunteer, Community Advocate for Public Safety and Waterleaf Wastewater Treatment Plant. 
Zuniga is running for election to the Place 3 seat on the Kyle City Council. This is an at-large council seat, meaning that any registered voter in the City of Kyle can vote in this election.
The Kyle City Council is composed of a Mayor elected at-large by the people for a three-year term and six Council Members, three elected at-large and one from each of the three districts, for staggered three-year terms.
Click on the image below to see an interactive map of the Early Voting locations in Hays County. Registered voters can vote at any location.
Click on the image below to see an interactive map of the Election Day voting locations in Hays County. Registered voters in Hays County can vote at any vote location on Election Day.
Kyle Road Bond Proposition
Proposition A, which totals $294.4 million, provides funding for critical transportation projects that will decrease congestion and improve overall safety and mobility in Kyle.
There are 8 roadway projects across Kyle totaling 10.3 total miles of new location, reconstruction, and widening projects to improve the City's transportation network.
These projects will provide additional capacity to support current and future traffic, strengthen connections between the east and west sides of Kyle, and construct key segments of the Vybe trail system.
WHERE ARE THESE PROJECTS?
See the map below to look at the potential projects and where they are in the City.