Based on the latest developments, is there anything the city can do to protect the safety of its citizens from the proposed Permian Highway Pipeline?
I applaud the city for the environmental safety measures they implemented into their negotiation with Kinder Morgan. We need to do everything that we can to ensure that our land, water, wildlife, and residents stay safe. I would encourage consistent soil sampling to be done during and after the pipeline is finished.
What can be done to ensure builders are paying their fair share so the infrastructure is done right when they build in Kyle?
Good policies and code standards need to be in place to ensure that the builders and developers are doing their due diligence when it comes to building out a sustainable infrastructure.
What are your thoughts about Kyle's affordable housing situation? If more is needed, how would you provide for it?
I believe we need to diversify our affordable housing options available to our residents that are well managed and maintained. As Councilwoman, I would like to see these standards met when considering the approval of proposed affordable housing developments.
What do you think about the current bond proposition to build a $37 million public safety center for the Kyle Police Department?
While I would have loved to see a more affordable option on the ballot this November, I do believe that the KPD have far outgrown the bank building they are currently using. Not only will this building provide the space the police department needs to keep up with the demands of our growing city, but it also provides many benefits to the residents of Kyle as well such as the mental health services, victim services, and community-based programs. I feel that it will be a place to strengthen the relationship between our community and officers.
Law enforcement is one of the largest expenses in the city's budget. What are your thoughts about the size of Kyle's police force and if they are being deployed adequately and appropriately?
A typical police department has 2-3 officers per 1,000 citizens, whereas Kyle currently only has 1 officer per 1,000 citizens. It is safe to say that our police department is understaffed, and have still managed to do a great job keeping Kyle one of the safest cities in Texas.
The Kyle police department rarely uses cite and release for non-violent, low-level offenses. Do you support expanding cite and release by broadening the definition of residency to include "working, living or going to school in Hays County"?
I do feel that there are minor offenses that are an appropriate opportunity to utilize a cite and release method, however, I feel that eliminating the police officer's discretion to determine the appropriateness gets a bit tricky. While the classification of an offense may be categorized as a minor offense, it doesn't fully encompass the act of the crime itself which could potentially pose a threat to the community.
Should Kyle give economic incentives to attract businesses, or is the city's location on the I-35 corridor and its position as one of the fastest-growing cities incentive enough? Explain.
Our location and increasing population are already very attractive to businesses looking to move to this area. We are also fortunate enough to have the Triple Freeport Tax Exemption now which makes us even more desirable. I believe the types of incentives we need to offer are strategic performance-based incentives that encourage developers and builders to build Class A and Mixed-Use buildings to provide space for these businesses interested in coming to Kyle.
What should the city council do to support local businesses that have experienced losses related to the COVID-19 pandemic?
We are so fortunate to have access to funds provided by the CARES Act at a city level. I believe we should be offering and utilizing those as much as possible to support our local businesses and economy.
How well is Kyle planning for the future? What improvements would you suggest?
The city has done a great job of staying on top of our infrastructure. There are quite a few Capital Investment Projects in the works that have not only taken our recent growth into consideration but also future growth as well. I believe it's important to have a forward-thinking council who can address the growth of today and of the next twenty years to come. When it comes to infrastructure, I would say the main improvements that need to be addressed in the nearest future are our roads.
What are you willing to do to maintain an open dialog with your constituents?
My email, phone, and Facebook page will always be open to my peers and fellow residents to present questions and concerns that they have. I want to work with the people I represent. I welcome their opinions and feedback, and I look forward to communicating with them through those channels so that every voice is heard and we all have a say in the best decisions for this city.
If elected, how will you work to ensure city council operates in a transparent manner?
One of my main objectives is to bridge the gap between the city and the citizens. I believe that communication and community input are imperative for a transparent relationship between the two. I would love to see more community outreach and polling done on major topics that the Council addresses. I believe that this is a simple and easy way to understand what the residents would like to see and present possible solutions that the Council may not have thought of otherwise.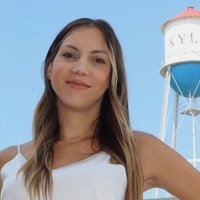 Name
Ashlee Bradshaw
How can voters contact you?
Describe your educational background
I graduated from IUPUI in Indianapolis, IN with an Associate's degree in Paralegal Studies and a Bachelor's degree in Social Science.
Describe your relevant employment background
I have been a small business owner for the last eight years, and have built three successful businesses within that time.
Describe your leadership experience background
Being self-employed has given me the opportunity to help lead people in various capacities throughout my years. I thoroughly enjoy working with others to help them reach their potential, it is a passion of mine. It has also provided me with the ability to understand the actions necessary to be an effective leader and become efficient in working towards and achieving goals.
Describe your community involvement in Kyle
Ever since moving to Kyle, I have been an active volunteer and donor. I have given time and resources to schools, neighborhood HOA committees, animal shelters, food banks, and youth sports organizations to name a few. My service-based heart has lead me to so many great opportunities to give back to the community and I look forward to continuing to do so as Councilwoman.
Bradshaw is running for an open seat for the District 4 seat on the council. This is a single-member council seat, meaning that only voters who live in this district can vote for candidates in this race. District 4, which is largely west of Interstate 35.
The Kyle City Council is composed of a Mayor elected at-large by the people for a three-year term and six Council Members, three elected at-large and one from each of the three districts, for staggered three-year terms.
EARLY VOTING LOCATIONS 2020
Click on the image below to see an interactive map of the Early Voting locations in Hays County. Registered voters can vote at any location.
Click on the image below to see an interactive map of the Election Day voting locations in Hays County. This is the first year that Hays County registered voters can vote at any vote location on Election Day.