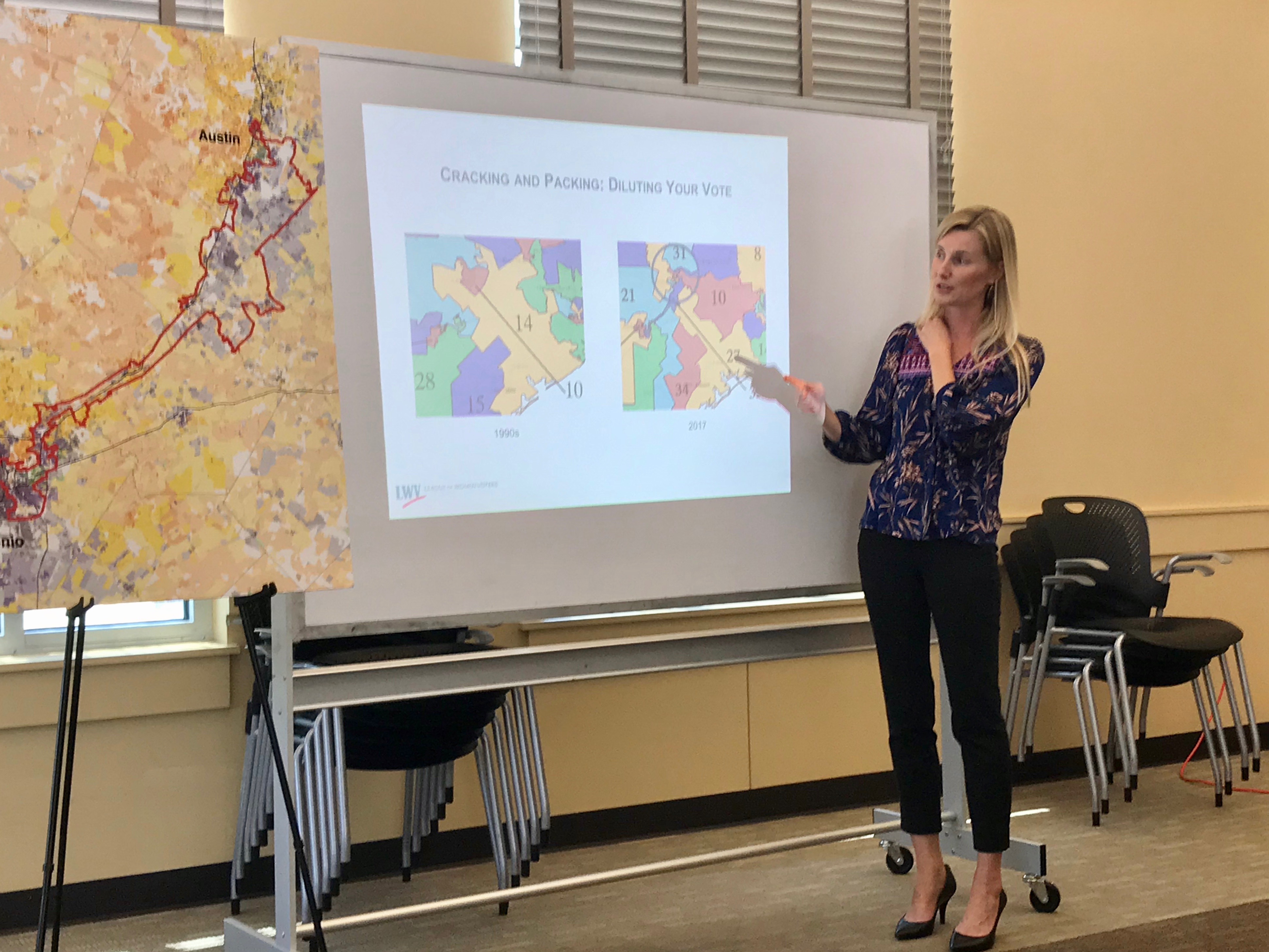 Recommendations to ensure a fair and open redistricting process
After next year's census, all legislative districts in Texas will be redrawn to reflect new population numbers.
On Saturday, Sept. 7, Kyle/Buda-Area Democrats hosted a meeting featuring guest speakers from Fair Maps Texas and the Texas Civil Rights Project to discuss important upcoming hearings related to the next round of redistricting in 2021.
This presentation explained the processes and procedures that Hays County residents can use to raise concerns at the upcoming redistricting hearings and throughout the legislative process in 2021.
Fair Maps Texas provided a Redistricting Testimony Guide and a set of Recommendations to Ensure a Fair and Open Redistricting Process. The recommendations include a few sample scripts that can be adapted to help you compose your testimony that can be submitted at the hearings or to a member of the redistricting committee.
If you are unable to attend a hearing and would still like to provide testimony, you may email or call legislators on the Redistricting Committee.  A list of committee member information can be found here: http://bit.ly/2KrYk0N
Tips from Fair Maps Texas
Why does the Legislature want to hear from the public?
Speaking up about your community is critical to ensuring district lines are drawn to keep your community whole and grouped with nearby communities with similar interests. This ensures that your voice is heard by your elected leaders in such decisions as to the quality of your child's school or how high your taxes are.
What will happen to publicly submitted comments and how will they be used in line drawing?
Along with census data, publicly submitted comments will be used to assist the Legislature when it begins drawing district boundaries. The focus of public testimony is to receive information about the unique characteristics of the public's Communities of Interest from those most familiar with their neighborhoods.
What is a "Community of Interest"?
A Community of Interest (COI) is a geographically connected population which shares common social and economic interests. Examples of such shared interests are:
Those common to areas such as urban, rural, industrial, or agricultural; as well as geographical such as rivers, mountains, coastal, inland, watershed, etc.

Those common to areas in which the people share similar living standards, use the same transportation facilities, have similar work opportunities, or have access to the same media of communication relevant to the election process; as well as shared common goals.
Also, consider the following questions:
What bonds your community – what do you see as the common links in your community?

Where is your community located – what are the boundaries of your community?

Why should the community be kept together – or separate from another area?
How can public comment and testimony be given?
Public comments about Communities of Interest can be submitted in a variety of ways, including:
Learn how you can take action with Fair Maps Texas
Check out the many ways you can get involved to ensure Texas has fair legislative districts during the 2021 redistricting sessions. Take Action
Redistricting Process in Brief
https://my.lwv.org/texas/public-input-hearings
• The Texas Legislature, comprised of your state senators and representatives, has the first opportunity to draw and adopt district boundaries by filing redistricting bills.
• Census data will be received by the state in February, 2021, and all bills must meet the 60-day bill filing deadline of March 12, 2021.
• Senate and House redistricting bills traditionally originate in their respective houses, but Congressional and State Board of Education district bills may be introduced in either or both houses.
• Redistricting bills follow the same path through the legislature as other legislation, including having public hearings.
• If the house or senate redistricting bill fails to pass or is vetoed by the governor and the veto is not overridden by the legislature, the Legislative Redistricting Board is required to meet within 90 days of the end of the regular session.
• The Legislative Redistricting Board is composed of the lieutenant governor, speaker of the house, attorney general, comptroller, and commissioner of the general land office.
• In 1981 and 2001 the Legislative Redistricting Board was convened to draw the Texas House and Senate legislative maps.