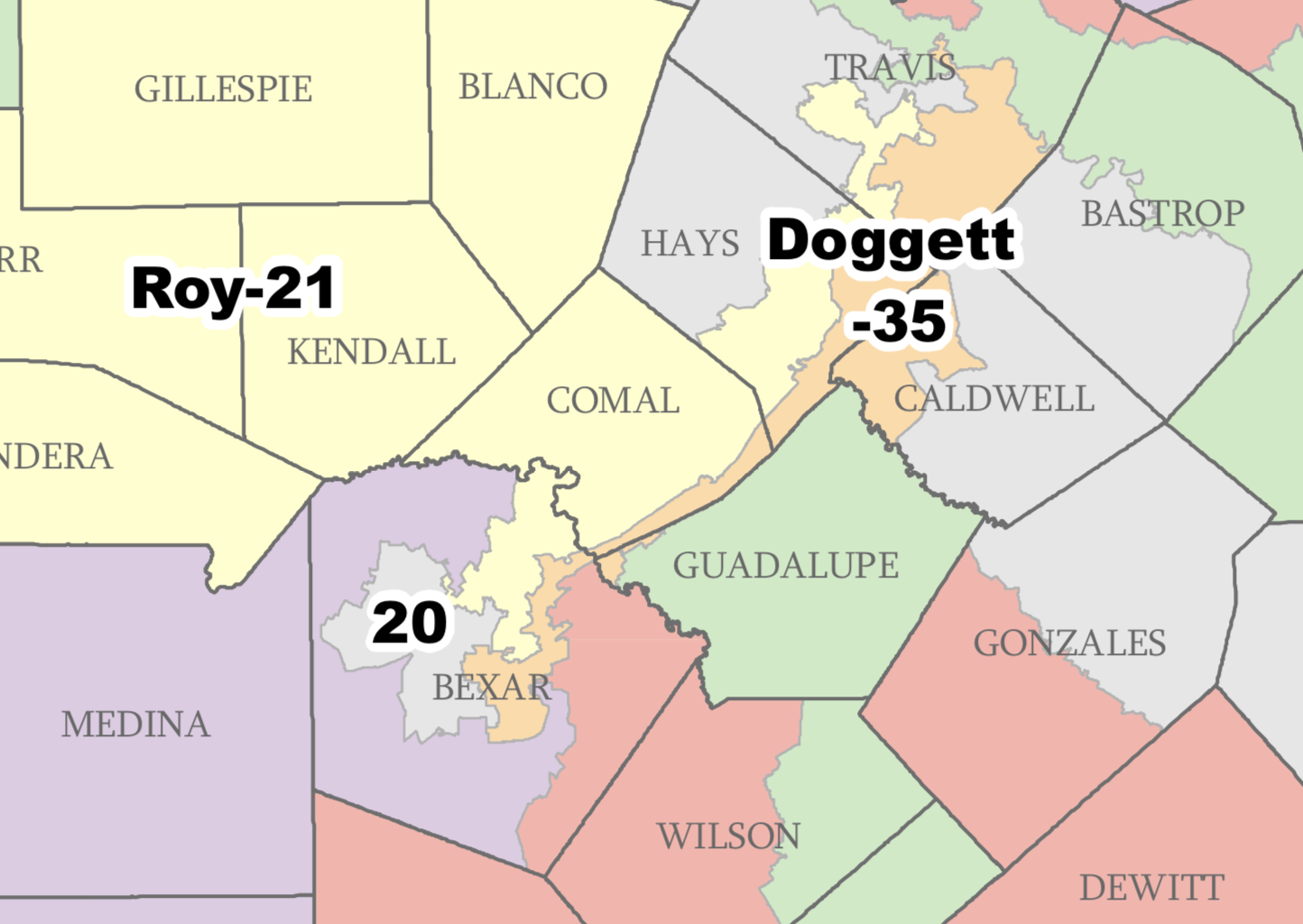 Learn how to stop redistricting abuses in Hays County in 2021
After next year's census, all legislative districts in Texas will be redrawn to reflect new population numbers.
On Saturday, Sept. 7, Kyle/Buda-Area Democrats will host a meeting featuring guest speakers from Fair Maps Texas and the Texas Civil Rights Project to discuss important upcoming hearings related to the next round of redistricting in 2021.
This presentation will explain the process and procedures that Hays County residents can use to raise concerns at the redistricting hearings hosted on Sept. 10 in Austin and on Sept. 12 in San Antonio.
These public hearings are an important way to hold state leaders accountable for complying with the Voting Rights Act when they redraw political boundaries in the state.
Please help us promote this event by forwarding this email to people from communities that are vulnerable to being hurt in the redistricting process and by sharing links to our Facebook Event and Mobilize event listings.
Tips from Fair Maps Texas
Why does the Legislature want to hear from the public?
Speaking up about your community is critical to ensuring district lines are drawn to keep your community whole and grouped with nearby communities with similar interests. This ensures that your voice is heard by your elected leaders in such decisions as to the quality of your child's school or how high your taxes are.
What will happen to publicly submitted comments and how will they be used in line drawing?
Along with census data, publicly submitted comments will be used to assist the Legislature when it begins drawing district boundaries. The focus of public testimony is to receive information about the unique characteristics of the public's Communities of Interest from those most familiar with their neighborhoods.
What is a "Community of Interest"?
A Community of Interest (COI) is a geographically connected population which shares common social and economic interests. Examples of such shared interests are:
Those common to areas such as urban, rural, industrial, or agricultural; as well as geographical such as rivers, mountains, coastal, inland, watershed, etc.

Those common to areas in which the people share similar living standards, use the same transportation facilities, have similar work opportunities, or have access to the same media of communication relevant to the election process; as well as shared common goals.
Also, consider the following questions:
What bonds your community – what do you see as the common links in your community?

Where is your community located – what are the boundaries of your community?

Why should the community be kept together – or separate from another area?
How can public comment and testimony be given?
Public comments about Communities of Interest can be submitted in a variety of ways, including:
In-Person: Participate at a Public Field Hearing, which will be held around the state.

In Writing: volunteer with Fair Maps Texas to quickly and easily provide your input.
COMMITTEE: Redistricting
TIME & DATE: 1:30 PM, Tuesday, September 10, 2019
PLACE: Texas Capitol, Room: E1.030
CHAIR: Rep. Phil King
The Committee will meet to hear invited and public testimony in the Texas Capitol, committee hearing room E1.030 located at 1100 Congress Ave., Austin, TX 78701.
The purpose of the interim field hearings is to solicit public input on the 2021 legislative redistricting process and provide context to the official 2020 Census data that the 87th Legislature will receive by April 2021. Since the Legislature will not receive official data from the U.S. Census Bureau until the 87th session is underway, these interim field hearings seek to maximize the opportunities for Texans to share information they believe relevant to the upcoming redistricting process, including information about communities of interest within our state.
Invited testimony: Texas Demographic Center and Texas Legislative Council, Mapping and Redistricting Section
The chair may limit individual public testimony time in consideration of all participants.
Interpretation assistance can be provided by request made at least 72 hours in advance of the hearing.  Please contact committee staff at 512-463-9948 or Ashley.westenhover@house.texas.gov.
Other Information:
Map of Facility: http://bit.ly/2KAaxzi
Parking: http://bit.ly/2Z0bJ8c
Public Transit: http://bit.ly/33n4TZP
If you are unable to attend and would like to provide testimony, you may at any time email or call legislators on the Redistricting Committee.  A list of committee member information can be found here: http://bit.ly/2KrYk0N
Shortly after the conclusion of the hearing, a video archive of the hearing will be available at the following link: http://bit.ly/2Kq4zCi
To learn more on the Texas redistricting process visit: http://bit.ly/2ZOId2H
Learn how you can take action with Fair Maps Texas
Check out the many ways you can get involved to ensure Texas has fair legislative districts during the 2021 redistricting sessions. Take Action
Upcoming Hearings
The upcoming public field hearings are an important way to hold state leaders accountable for complying with the Voting Rights Act when they redraw political boundaries in the state.
Hays County residents can voice their concerns at the redistricting hearings hosted on Sept. 10 in Austin and on Sept. 12 in San Antonio.
Aviso público para la audiencia del comité de redistritación en Austin
COMITÉ: Redistribución de distritos
FECHA Y HORA: Martes 10 de septiembre de 2019, 1:30 p. m.
LUGAR: Capitol Extension Room E1.030
PRESIDENTE: Rep. Phil King
El Comité se reunirá para escuchar el punto de vista de invitados y público en general en el Capitolio de Texas, en la sala de audiencias del comité E1.030 situada en 1100 Congress Ave., Austin, TX 78701.
El objetivo de las audiencias de campo provisionales es solicitar la opinión pública sobre el proceso legislativo de redistribución de distritos de 2021 y ofrecer contexto a los datos oficiales del Censo de 2020 que la Legislatura 87.º recibirá a más tardar en abril de 2021. Dado que la Legislatura no recibirá datos oficiales de la Oficina del Censo de los Estados Unidos hasta que se encuentre en curso la sesión 87.º, estas audiencias provisionales procurarán maximizar las oportunidades para que los texanos comuniquen información que consideren pertinente para el próximo proceso de redistribución de distritos, lo cual incluye información sobre comunidades de interés dentro de nuestro estado.
Testimonio de invitados: Centro Demográfico de Texas y Consejo Legislativo de Texas, Sección de Mapeo y Redistribución de Distritos
El presidente puede limitar el tiempo de exposición del público individual en consideración de todos los participantes.
Podrá proporcionarse asistencia de interpretación si se solicita al menos con 72 horas de anticipación a la audiencia. Comuníquese con el personal del comité al 512-463-9948 o escriba a Ashley.westenhover@house.texas.gov.
Otra información:
Mapa del centro: http://bit.ly/2KAaxzi
Estacionamiento: http://bit.ly/2Z0bJ8c
Transporte público: http://bit.ly/33n4TZP
Si no puede asistir y desea proporcionar su punto de vista, puede en cualquier momento enviar un mensaje de correo electrónico o llamar a los legisladores del Comité de Redistribución de Distritos. Puede encontrar un listado de información sobre los miembros del comité aquí: http://bit.ly/2KrYk0N
Poco después de la conclusión de la audiencia, se dispondrá de un archivo de video de la audiencia en el siguiente enlace: http://bit.ly/2Kq4zCi
Para obtener más información sobre el proceso de redistribución de distritos visite: http://bit.ly/2ZOId2H