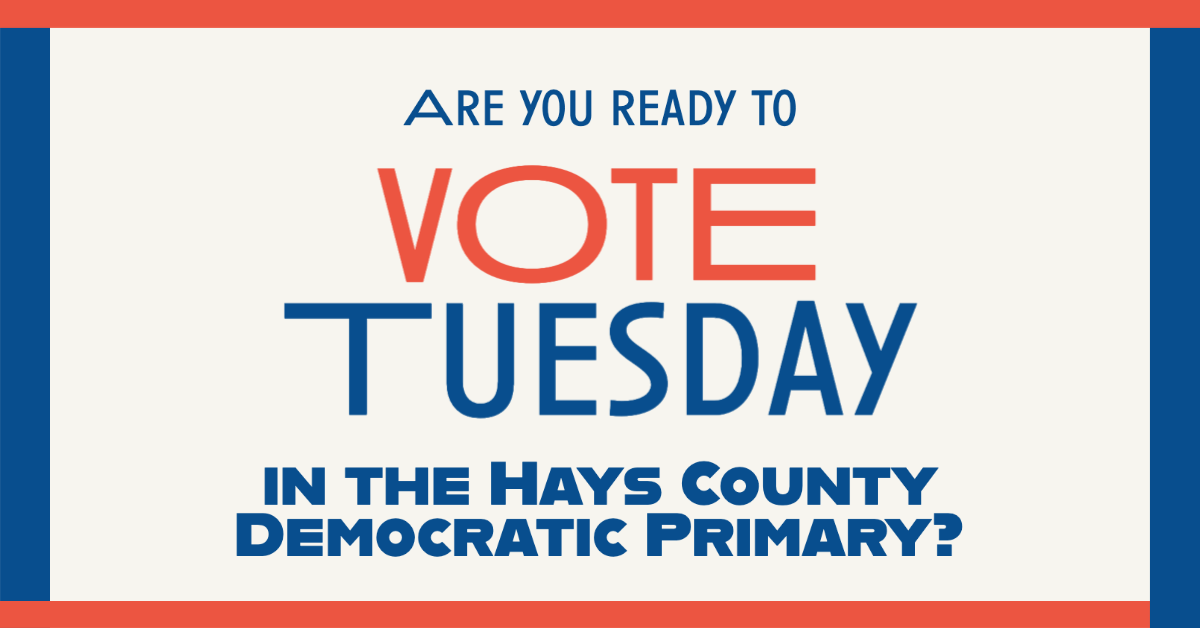 Are you ready to vote in Hays County?
COUNTYWIDE POLLING SITES
You can vote at any polling site during Early Voting and on Election Day, March 1, 2022.  The countywide polling system allows registered voters to cast a ballot at any Hays County vote center, regardless of the precinct in which they live.
MOVED POLLING SITES
Some polling sites have changed from previous elections. See the list and links below to see lists of the new polling sites.
Election Day Voting Locations
The following polling sites in the Kyle/Buda area will be open on Election Day on March 1.
Buda
Buda City Hall
405 East Loop Street, Building 100, Buda
Sunfield Station
2610 Main Street, Buda, TX
Buda Elementary School Upper Campus (Historic School Site — Kunkel Room)
300 North San Marcos Street, Buda, TX
Hays Hills Baptist Church
1401 North FM 1626, Buda, TX
McCormick Middle School
5700 Dacy Lane, Buda, TX
Southern Hills Church of Christ
3740 FM 967, Buda, TX
Kyle
Hays CISD Admin Office/Arnold Transportation Building
21003 Interstate 35 Frontage Road, Kyle, TX
Kyle City Hall
100 West Center Street, Kyle, TX
Live Oak Academy High School
4820 Jack C. Hays Trail, Kyle, TX
Simon Middle School (HCISD Clothes Closet)
3839 East FM 150, Kyle, TX
Yarrington — Hays County Transportation Department
2171 Yarrington Road, Kyle, TX
Precinct 2 Office, Hays County
5458 FM 2770, Kyle, TX
Tobias Elementary School
1005 East FM 150, Kyle, TX
Wallace Middle School
1500 West Center Street, Kyle, TX
Uhland
Main Office — HCISD Transportation Department
2385 High Road, Uhland, TX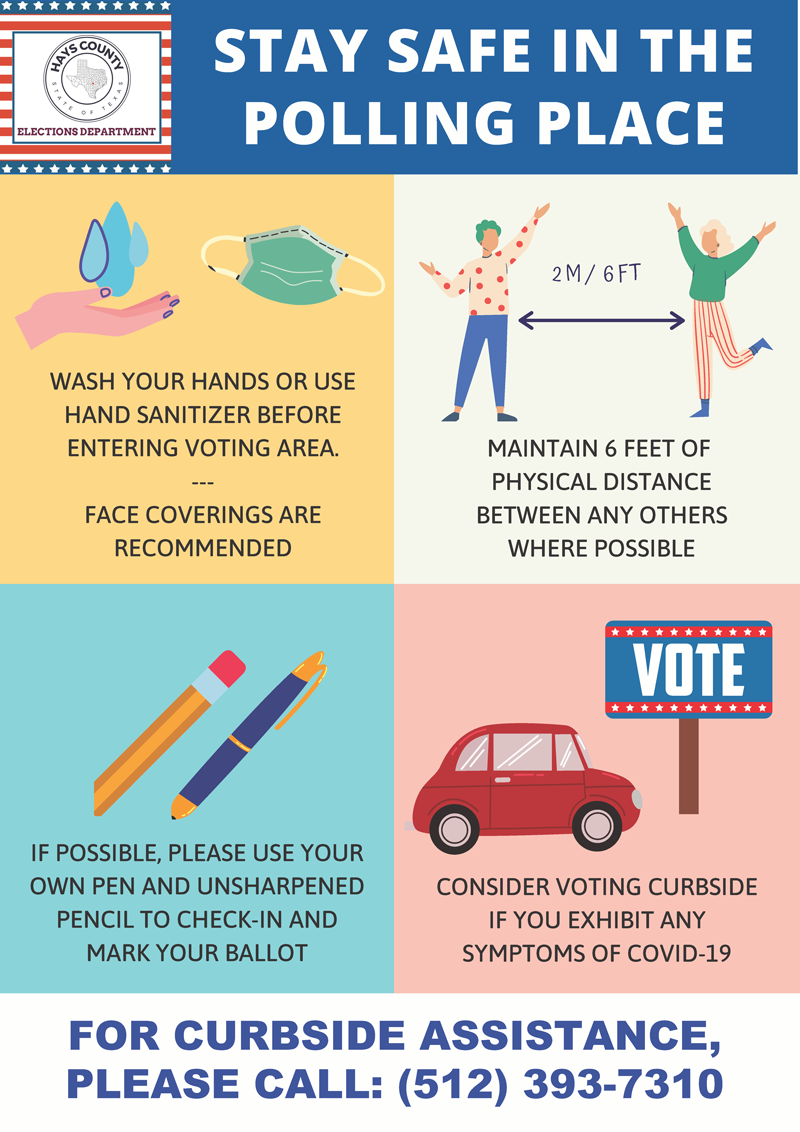 Tips for mail-in ballots on Election Day
If you have a mail-in ballot that hasn't been mailed to the Hays County Elections Office yet, we advise you to deliver it in person to the Hays Elections Clerk in San Marcos on Election Day. That is the only place and day that you can hand deliver your mail-in ballot.
We do not advise mailing your ballot at this point because your ballot would have to be RECEIVED by the Hays County Elections Office by 7 p.m. on Election Day (if it's not postmarked) or 5 p.m. the day after Election Day (as long as it's postmarked by 7 p.m. on Election Day).
The Elections Office is located at the Hays County Government Center in San Marcos and will be open until the polls close at 7 p.m.
Hays County Government Center
712 S Stagecoach Trail, San Marcos, TX 78666
Hays County Democratic Party Candidate Voter Guide
See the Hays County Democratic Party's Voters Guide to learn about the candidates.
Watch the video of the KBAD Primary Candidate Forum to hear directly from the candidates that responded to our invitations to particpiate.
View the full list of candidates appearing on the Hays County Democratic Party Primary Election ballot.
League of Women Voters Ballot Info
Enter your address on the League of Women Voters website to view candidate info for the candidates that you will be able to vote for based on where you live.